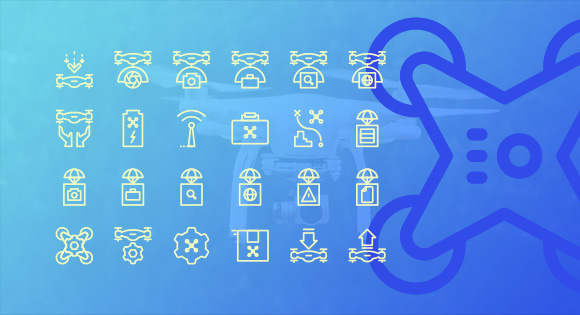 Today we'd like to share a really nice freebie with you: an exclusive set of drone icons that come directly from the freshly released Native Icons Pack, the most extensive line & solid style icons pack in the world.
About the Icon Set
The drones icon set consists of 50 solid and line style icons (100 icons in total) in AI, Sketch, SVG, Iconjar and optimized, ready-to-use PNG format. The icons can be colored and the stroke size easily adjusted to fit your project needs. We hope they will come in handy in your next drone related app or website!
The following drone and drone control related concepts are represented: advanced drone, alert airdrop, battery charge, bookmark airdrop, camera airdrop, camera, crate airdrop, delivery, document airdrop, downwards, drone care, drone refresh, drone settings, drone, elements airdrop, favourite airdrop, finance airdrop, four blades, four rounded blades, gamepad wireless, internet airdrop, internet, land, lens airdrop, lens, lift off, location, lock airdrop, medical airdrop, mobile phone drone, mobile phone gamepad, navigation, package airdrop, present airdrop, refresh, search airdrop, search, security airdrop, seeker airdrop, seeker, settings, suitcase airdrop, suitcase drone, suitcase, time airdrop, two blades, two rounded blades, upwards, wireless drone, wireless
The icon set contains:
50 line style and solid icons (100 icons in total)
AI, Sketch, Iconjar and SVG format
optimized, ready-to-use PNGs in the following useful sizes: @2x, @3x, 24, 30, 48, 72, 90, 96 and 120px
Preview
Have a look at the preview of all icons: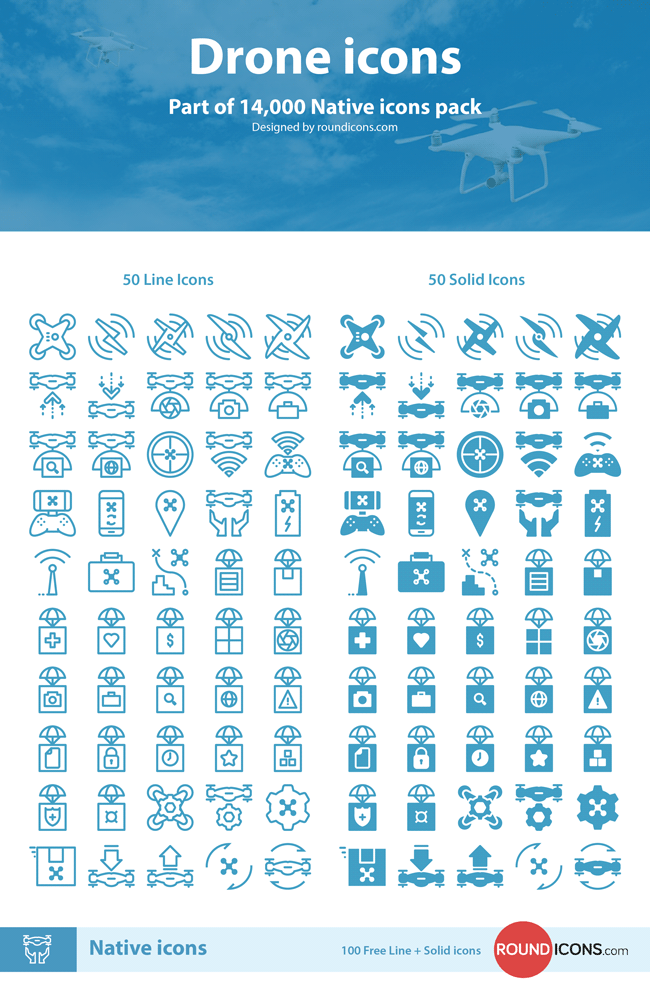 About the Full Native Line/Solid Icons Pack
The full Native Icons Pack by Round Icons is a massive collection of 14,000 vector line and glyph icons made with absolute completeness in mind. It took 7 month to create this versatile set and it is perfect for websites and mobile applications. All icons are of high quality and contain fine details while maintaining sharp lines. It's Round Icons' biggest and best set that won't leave out any concept you need for your projects. And if you find that something is missing – let Round Icons' team know about it and they'll add it to the next update!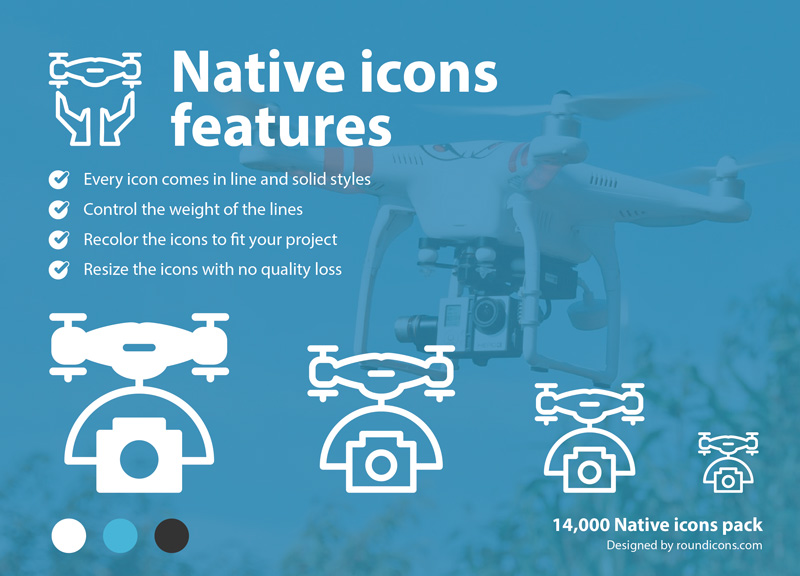 The icons are available in the most useful design formats around, such as Sketch, Ai, CSH, SVG, PNG (x6 sizes) and Iconjar.
Made with customizability in mind, the icons are made with vector shapes and are ready to be edited and adjusted in size, color and stroke thickness.
Round Icons is working continuously to produce new icons and refine the ones available. One purchased, all updated and newly added icons are received for free.
Get the full pack with a massive 40% discount using the coupon included in the download!
Download the Drone Icon Set for Free
You can download the ZIP file of the icon set here:
You can use the icons freely in your personal or commercial projects but please don't redistribute or sell them.
We hope you enjoy this freebie and find it useful!
If you'd like to contribute and publish your exclusive freebie on Codrops just drop us a line.