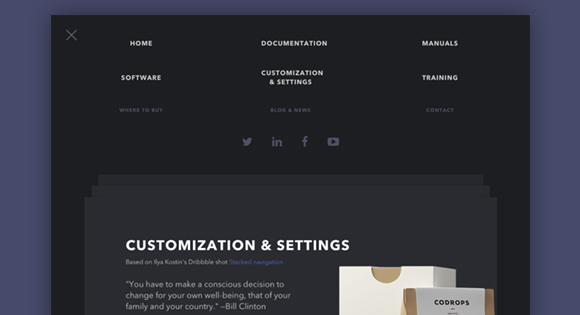 From our sponsor:
Get personalized content recommendations to make your emails more engaging. Sign up for Mailchimp today.
This Blueprint is page navigation effect based on the Dribbble shot Stacked navigation by Ilya Kostin. The idea is to show a navigation when clicking on the menu button and transform all pages in 3D and move them to the bottom of the viewport. The next two pages are shown in the back of the current page as a stack. When clicking on a menu item, the respective page comes up.
Please note that we are using a couple of modern CSS properties, so only contemporary browsers are supported.
Browser Support:
Chrome

Supported

Firefox

Supported

Internet Explorer

Supported from version 10+

Safari

Supported

Opera

Supported
The HTML

<!-- navigation -->
<nav class="pages-nav">
	<div class="pages-nav__item"><a class="link link--page" href="#page-home">Home</a></div>
	<div class="pages-nav__item"><a class="link link--page" href="#page-docu">Documentation</a></div>
	<div class="pages-nav__item"><a class="link link--page" href="#page-manuals">Manuals</a></div>
	<div class="pages-nav__item"><a class="link link--page" href="#page-software">Software</a></div>
	<div class="pages-nav__item"><a class="link link--page" href="#page-custom">Customization & Settings</a></div>
	<div class="pages-nav__item"><a class="link link--page" href="#page-training">Training</a></div>
	<div class="pages-nav__item pages-nav__item--small"><a class="link link--page link--faded" href="#page-buy">Where to buy</a></div>
	<div class="pages-nav__item pages-nav__item--small"><a class="link link--page link--faded" href="#page-blog">Blog & News</a></div>
	<div class="pages-nav__item pages-nav__item--small"><a class="link link--page link--faded" href="#page-contact">Contact</a></div>
	<div class="pages-nav__item pages-nav__item--social">
		<a class="link link--social link--faded" href="#"><i class="fa fa-twitter"></i><span class="text-hidden">Twitter</span></a>
		<a class="link link--social link--faded" href="#"><i class="fa fa-linkedin"></i><span class="text-hidden">LinkedIn</span></a>
		<a class="link link--social link--faded" href="#"><i class="fa fa-facebook"></i><span class="text-hidden">Facebook</span></a>
		<a class="link link--social link--faded" href="#"><i class="fa fa-youtube-play"></i><span class="text-hidden">YouTube</span></a>
	</div>
</nav>
<!-- /navigation-->
<!-- pages stack -->
<div class="pages-stack">
	<!-- page -->
	<div class="page" id="page-home">
		<!-- page content -->
	</div>
	<!-- /page -->
	<div class="page" id="page-docu">
		<!-- page content -->
	</div>
	<div class="page" id="page-manuals">
		<!-- page content -->
	</div>
	<div class="page" id="page-software">
		<!-- page content -->
	</div>
	<div class="page" id="page-custom">
		<!-- page content -->
	</div>
	<div class="page" id="page-training">
		<!-- page content -->
	</div>
	<div class="page" id="page-buy">
		<!-- page content -->
	</div>
	<div class="page" id="page-blog">
		<!-- page content -->
	</div>
	<div class="page" id="page-contact">
		<!-- page content -->
	</div>
</div>
<!-- /pages-stack -->
<button class="menu-button"><span>Menu</span></button>
<script src="js/classie.js"></script>
<script src="js/main.js"></script>

The CSS

html.js,
.js body {
	overflow: hidden;
	height: 100vh;
}

/* Pages nav */

.pages-nav {
	display: -webkit-flex;
	display: flex;
	-webkit-flex-wrap: wrap;
	flex-wrap: wrap;
	-webkit-justify-content: center;
	justify-content: center;
	-webkit-align-items: center;
	align-items: center;
	padding: 20px;
	text-align: center;
	background: #0e0f0f;
}

.js .pages-nav {
	position: absolute;
	top: 0;
	left: 0;
	width: 100%;
	height: 50vh;
	padding: 30px;
	pointer-events: none;
	opacity: 0;
	background: transparent;
	-webkit-transition: -webkit-transform 1.2s, opacity 1.2s;
	transition: transform 1.2s, opacity 1.2s;
	-webkit-transition-timing-function: cubic-bezier(0.2, 1, 0.3, 1);
	transition-timing-function: cubic-bezier(0.2, 1, 0.3, 1);
	-webkit-transform: translate3d(0, 150px, 0);
	transform: translate3d(0, 150px, 0);
}

.js .pages-nav--open {
	pointer-events: auto;
	opacity: 1;
	-webkit-transform: translate3d(0, 0, 0);
	transform: translate3d(0, 0, 0);
}

.pages-nav__item {
	width: 33%;
	padding: 1em;
}

.js .pages-nav__item {
	padding: 0 10%;
}

.pages-nav .pages-nav__item--social {
	width: 100%;
	opacity: 0;
	-webkit-transition: -webkit-transform 1.2s, opacity 1.2s;
	transition: transform 1.2s, opacity 1.2s;
	-webkit-transition-timing-function: cubic-bezier(0.2, 1, 0.3, 1);
	transition-timing-function: cubic-bezier(0.2, 1, 0.3, 1);
	-webkit-transform: translate3d(0, 20px, 0);
	transform: translate3d(0, 20px, 0);
}

.pages-nav--open .pages-nav__item--social {
	opacity: 1;
	-webkit-transition-delay: 0.35s;
	transition-delay: 0.35s;
	-webkit-transform: translate3d(0, 0, 0);
	transform: translate3d(0, 0, 0);
}

.link {
	font-size: 0.85em;
	font-weight: bold;
	position: relative;
	letter-spacing: 1px;
	text-transform: uppercase;
}

.link:hover,
.link:focus {
	color: #fff;
}

.link--page {
	display: block;
	color: #cecece;
}

.link--page:not(.link--faded)::before {
	content: '';
	position: absolute;
	top: 100%;
	left: 50%;
	width: 30px;
	height: 2px;
	margin: 5px 0 0 -15px;
	background: #fff;
	-webkit-transition: -webkit-transform 0.3s;
	transition: transform 0.3s;
	-webkit-transform: scale3d(0, 1, 1);
	transform: scale3d(0, 1, 1);
}

.link--page:hover:before {
	-webkit-transform: scale3d(1, 1, 1);
	transform: scale3d(1, 1, 1);
}

.link--faded {
	color: #4f4f64;
}

.link--faded:hover,
.link--faded:focus {
	color: #5c5edc;
}

.link--page.link--faded {
	font-size: 0.65em;
}

.link--social {
	font-size: 1.5em;
	margin: 0 0.75em;
}

.text-hidden {
	position: absolute;
	display: block;
	overflow: hidden;
	width: 0;
	height: 0;
	color: transparent;
}

/* Pages stack */

.js .pages-stack {
	z-index: 100;
	pointer-events: none;
	-webkit-perspective: 1200px;
	perspective: 1200px;
	-webkit-perspective-origin: 50% -50%;
	perspective-origin: 50% -50%;
}

.js .page {
	position: relative;
	z-index: 5;
	overflow: hidden;
	width: 100%;
	height: 100vh;
	pointer-events: auto;
	background: #2a2b30;
	box-shadow: 0 -1px 10px rgba(0, 0, 0, 0.1);
}

.js .pages-stack--open .page {
	cursor: pointer;
	-webkit-transition: -webkit-transform 0.45s, opacity 0.45s;
	transition: transform 0.45s, opacity 0.45s;
	-webkit-transition-timing-function: cubic-bezier(0.6, 0, 0.4, 1);
	transition-timing-function: cubic-bezier(0.6, 0, 0.4, 1);
}

.js .page--inactive {
	position: absolute;
	z-index: 0;
	top: 0;
	opacity: 0;
}

/* page content */

.info {
	font-size: 1.25em;
	max-width: 50%;
	margin-top: 1.5em;
}

.poster {
	position: absolute;
	bottom: 4vh;
	left: 60%;
	max-width: 100%;
	max-height: 80%;
}

/* Menu button */

.menu-button {
	position: absolute;
	z-index: 1000;
	top: 30px;
	left: 30px;
	width: 30px;
	height: 24px;
	padding: 0;
	cursor: pointer;
	border: none;
	outline: none;
	background: transparent;
}

.no-js .menu-button {
	display: none;
}

.menu-button::before,
.menu-button::after,
.menu-button span {
	background: #5f656f;
}

.menu-button::before,
.menu-button::after {
	content: '';
	position: absolute;
	top: 50%;
	left: 0;
	width: 100%;
	height: 2px;
	pointer-events: none;
	-webkit-transition: -webkit-transform 0.25s;
	transition: transform 0.25s;
	-webkit-transform-origin: 50% 50%;
	transform-origin: 50% 50%;
}

.menu-button span {
	position: absolute;
	left: 0;
	overflow: hidden;
	width: 100%;
	height: 2px;
	text-indent: 200%;
	-webkit-transition: opacity 0.25s;
	transition: opacity 0.25s;
}

.menu-button::before {
	-webkit-transform: translate3d(0, -10px, 0) scale3d(0.8, 1, 1);
	transform: translate3d(0, -10px, 0) scale3d(0.8, 1, 1);
}

.menu-button::after {
	-webkit-transform: translate3d(0, 10px, 0) scale3d(0.8, 1, 1);
	transform: translate3d(0, 10px, 0) scale3d(0.8, 1, 1);
}

.menu-button--open span {
	opacity: 0;
}

.menu-button--open::before {
	-webkit-transform: rotate3d(0, 0, 1, 45deg);
	transform: rotate3d(0, 0, 1, 45deg);
}

.menu-button--open::after {
	-webkit-transform: rotate3d(0, 0, 1, -45deg);
	transform: rotate3d(0, 0, 1, -45deg);
}

@media screen and (max-width: 60em) {
	.info {
		max-width: 100%;
	}
	.poster {
		position: relative;
		top: auto;
		left: auto;
		display: block;
		max-width: 100%;
		max-height: 50vh;
		margin: 0 0 0 50%;
	}
	.pages-nav__item {
		width: 50%;
		min-height: 20px;
	}
	.link--page {
		overflow: hidden;
		white-space: nowrap;
		text-overflow: ellipsis;
	}
	.link--social {
		margin: 0 0.1em;
	}
}

@media screen and (max-width: 40em) {
	.js .pages-nav {
		display: block;
		padding: 10px 20px 0 20px;
		text-align: left;
	}
	.js .pages-nav__item {
		width: 100%;
		padding: 4px 0;
	}
	.js .pages-nav__item--small {
		display: inline-block;
		width: auto;
		margin-right: 5px;
	}
	.pages-nav__item--social {
		font-size: 0.9em;
	}
	.menu-button {
		top: 15px;
		right: 10px;
		left: auto;
	}
	.info {
		font-size: 0.85em;
	}
	.poster {
		margin: 1em;
	}
}

The JavaScript

/**
 * main.js
 * http://www.codrops.com
 *
 * Licensed under the MIT license.
 * http://www.opensource.org/licenses/mit-license.php
 * 
 * Copyright 2015, Codrops
 * http://www.codrops.com
 */
;(function(window) {

	'use strict';

	var support = { transitions: Modernizr.csstransitions },
		// transition end event name
		transEndEventNames = { 'WebkitTransition': 'webkitTransitionEnd', 'MozTransition': 'transitionend', 'OTransition': 'oTransitionEnd', 'msTransition': 'MSTransitionEnd', 'transition': 'transitionend' },
		transEndEventName = transEndEventNames[ Modernizr.prefixed( 'transition' ) ],
		onEndTransition = function( el, callback ) {
			var onEndCallbackFn = function( ev ) {
				if( support.transitions ) {
					if( ev.target != this ) return;
					this.removeEventListener( transEndEventName, onEndCallbackFn );
				}
				if( callback && typeof callback === 'function' ) { callback.call(this); }
			};
			if( support.transitions ) {
				el.addEventListener( transEndEventName, onEndCallbackFn );
			}
			else {
				onEndCallbackFn();
			}
		},
		// the pages wrapper
		stack = document.querySelector('.pages-stack'),
		// the page elements
		pages = [].slice.call(stack.children),
		// total number of page elements
		pagesTotal = pages.length,
		// index of current page
		current = 0,
		// menu button
		menuCtrl = document.querySelector('button.menu-button'),
		// the navigation wrapper
		nav = document.querySelector('.pages-nav'),
		// the menu nav items
		navItems = [].slice.call(nav.querySelectorAll('.link--page')),
		// check if menu is open
		isMenuOpen = false;

	function init() {
		buildStack();
		initEvents();
	}

	function buildStack() {
		var stackPagesIdxs = getStackPagesIdxs();

		// set z-index, opacity, initial transforms to pages and add class page--inactive to all except the current one
		for(var i = 0; i < pagesTotal; ++i) {
			var page = pages[i],
				posIdx = stackPagesIdxs.indexOf(i);

			if( current !== i ) {
				classie.add(page, 'page--inactive');

				if( posIdx !== -1 ) {
					// visible pages in the stack
					page.style.WebkitTransform = 'translate3d(0,100%,0)';
					page.style.transform = 'translate3d(0,100%,0)';
				}
				else {
					// invisible pages in the stack
					page.style.WebkitTransform = 'translate3d(0,75%,-300px)';
					page.style.transform = 'translate3d(0,75%,-300px)';		
				}
			}
			else {
				classie.remove(page, 'page--inactive');
			}

			page.style.zIndex = i < current ? parseInt(current - i) : parseInt(pagesTotal + current - i);
			
			if( posIdx !== -1 ) {
				page.style.opacity = parseFloat(1 - 0.1 * posIdx);
			}
			else {
				page.style.opacity = 0;
			}
		}
	}

	// event binding
	function initEvents() {
		// menu button click
		menuCtrl.addEventListener('click', toggleMenu);

		// navigation menu clicks
		navItems.forEach(function(item) {
			// which page to open?
			var pageid = item.getAttribute('href').slice(1);
			item.addEventListener('click', function(ev) {
				ev.preventDefault();
				openPage(pageid);
			});
		});

		// clicking on a page when the menu is open triggers the menu to close again and open the clicked page
		pages.forEach(function(page) {
			var pageid = page.getAttribute('id');
			page.addEventListener('click', function(ev) {
				if( isMenuOpen ) {
					ev.preventDefault();
					openPage(pageid);
				}
			});
		});

		// keyboard navigation events
		document.addEventListener( 'keydown', function( ev ) {
			if( !isMenuOpen ) return; 
			var keyCode = ev.keyCode || ev.which;
			if( keyCode === 27 ) {
				closeMenu();
			}
		} );
	}

	// toggle menu fn
	function toggleMenu() {
		if( isMenuOpen ) {
			closeMenu();
		}
		else {
			openMenu();
			isMenuOpen = true;
		}
	}

	// opens the menu
	function openMenu() {
		// toggle the menu button
		classie.add(menuCtrl, 'menu-button--open')
		// stack gets the class "pages-stack--open" to add the transitions
		classie.add(stack, 'pages-stack--open');
		// reveal the menu
		classie.add(nav, 'pages-nav--open');

		// now set the page transforms
		var stackPagesIdxs = getStackPagesIdxs();
		for(var i = 0, len = stackPagesIdxs.length; i < len; ++i) {
			var page = pages[stackPagesIdxs[i]];
			page.style.WebkitTransform = 'translate3d(0, 75%, ' + parseInt(-1 * 200 - 50*i) + 'px)'; // -200px, -230px, -260px
			page.style.transform = 'translate3d(0, 75%, ' + parseInt(-1 * 200 - 50*i) + 'px)';
		}
	}

	// closes the menu
	function closeMenu() {
		// same as opening the current page again
		openPage();
	}

	// opens a page
	function openPage(id) {
		var futurePage = id ? document.getElementById(id) : pages[current],
			futureCurrent = pages.indexOf(futurePage),
			stackPagesIdxs = getStackPagesIdxs(futureCurrent);

		// set transforms for the new current page
		futurePage.style.WebkitTransform = 'translate3d(0, 0, 0)';
		futurePage.style.transform = 'translate3d(0, 0, 0)';
		futurePage.style.opacity = 1;

		// set transforms for the other items in the stack
		for(var i = 0, len = stackPagesIdxs.length; i < len; ++i) {
			var page = pages[stackPagesIdxs[i]];
			page.style.WebkitTransform = 'translate3d(0,100%,0)';
			page.style.transform = 'translate3d(0,100%,0)';
		}

		// set current
		if( id ) {
			current = futureCurrent;
		}
		
		// close menu..
		classie.remove(menuCtrl, 'menu-button--open');
		classie.remove(nav, 'pages-nav--open');
		onEndTransition(futurePage, function() {
			classie.remove(stack, 'pages-stack--open');
			// reorganize stack
			buildStack();
			isMenuOpen = false;
		});
	}

	// gets the current stack pages indexes. If any of them is the excludePage then this one is not part of the returned array
	function getStackPagesIdxs(excludePageIdx) {
		var nextStackPageIdx = current + 1 < pagesTotal ? current + 1 : 0,
			nextStackPageIdx_2 = current + 2 < pagesTotal ? current + 2 : 1,
			idxs = [],

			excludeIdx = excludePageIdx || -1;

		if( excludePageIdx != current ) {
			idxs.push(current);
		}
		if( excludePageIdx != nextStackPageIdx ) {
			idxs.push(nextStackPageIdx);
		}
		if( excludePageIdx != nextStackPageIdx_2 ) {
			idxs.push(nextStackPageIdx_2);
		}

		return idxs;
	}

	init();

})(window);