From our sponsor:
Create stunning brand assets with the help of our AI-driven Creative Assistant. Get started today.
The leading PSD to HTML conversion company, PSD2HTML.com, is giving away two fantastic prizes to our Codrops readers! The first prize is $350 worth of services and the second prize is $250 worth of services. Read on to see how you can win.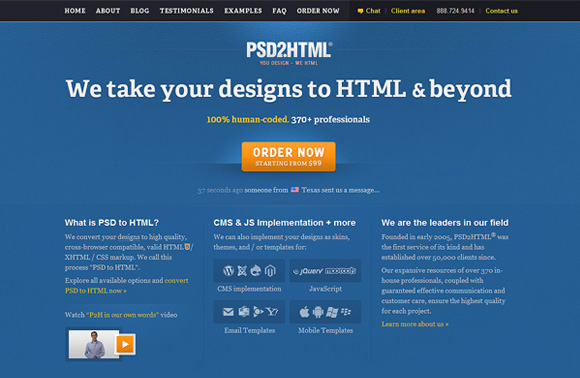 About PSD2HTML Services
PSD2HTML take design files in any common format and deliver cross-browser compatible W3C Valid HTML5 / XHTML / CSS markup. Founded in early 2005, they have established over 55,000 clients ever since. With vast resources of over 370 professionals, PSD2HTML can ensure the highest quality for each and every project.
Should you need more than PSD to HTML conversion, they can handle WordPress, Drupal, Joomla implementation, PSD to Email template coding, mobile templates compatible with iOS, Android, BlackBerry.
The code they provide is:
table-less
SEO semantic
load speed optimized
100% hand-coded
compatible with all modern browsers
Just check out what their clients have to say about their services!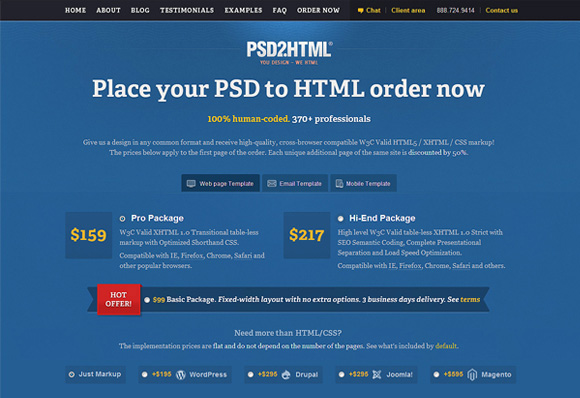 This month's deal on PSD2HTML.com
This September you have a chance to order the Responsive Layout Width option at the discounted price. This option will automatically adjust your web pages layout to any screen resolution. Stay tuned for more updates from PSD2HTML.com!
About the prize
In this contest you get a chance to win $350 or $250 worth of PSD2HTML.com services. You can use the prize to order XHTML/CSS or HTML5/CSS3 markup, CMS implementation, Email newsletter templates or Mobile website templates!
How to enter
All you have to do to enter is:
Leave a comment below. Only one entry per person please and make sure you use a valid email address.
To double your chances and get a bonus entry, tweet about this giveaway and post a link to your tweet in the comments section (optional).
Good luck to everyone!
This giveaway ended on September 19, 2012 at 10 p.m. GMT+0.
The Winners
We are happy to announce the following winners of the giveaway:
First prize ($350 worth of services): Eugene Pavlov
Second prize ($250 worth of services): Adrian
Congratulations, you will be contacted shortly!
Thank you all for participating!