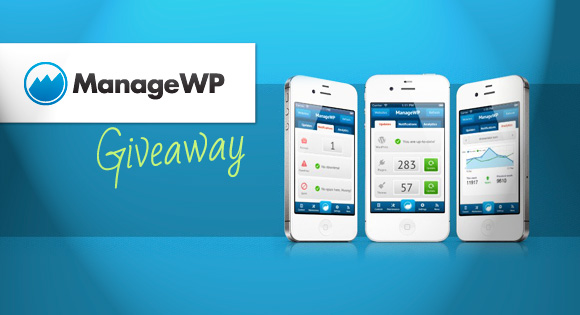 ManageWP is the premiere way to manage multiple WordPress websites and today you can win one of 5 Business 10 Site Yearly Licenses (valued at $453.60 each).
What is ManageWP?
ManageWP is the world's first and finest all-inclusive WordPress management console that gives users full power and complete control in managing virtually any number of WordPress sites with ease.
It has been designed for WordPress users by WordPress users, and ManageWP aims to be the only quintessential management dashboard that users will ever need to take back control of all their WordPress sites, through its powerful Manage, Monitor, Backup, Deploy, Publish, and Secure features.
ManageWP currently manages 0.04% of all the websites on the Internet.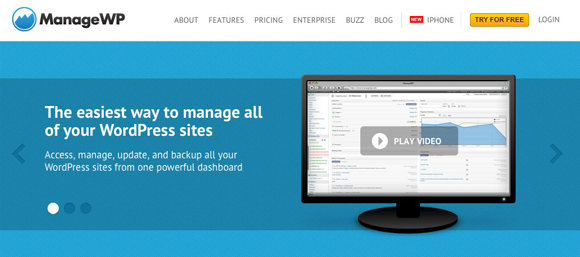 ManageWP At A Glance
Founder – Vladimir Prelovac
Founded – April 2010
Employees – 20 in 4 countries
Number of Websites Managed – 165,461

Benefits Of Using ManageWP
Manage: Allows single click access to all of your WordPress websites. Keep all of your themes and plugins up to date from a single Dashboard.
Monitor: Uptime is the most important aspect of running a successful website. You will be notified of any issues on any of your managed sites so you can take immediate action in case something goes wrong.
Optimize: Search Engine Optimization is key to building traffic and analytic tools are necessary for you to identify the best keywords to use for each of your websites.
Backup: The backup tools in ManageWP make it easy to schedule the important backups and give you easy storage solutions using your favorite cloud storage services.
Deploy: Easily setup additional sites based on the same themes using site cloning tools.
Publish: Content is king and the tools to update content make it possible to add new content to every site from a single location. Bulk posting to your websites save time and money.
Secure: Security is very important and the robust tools like integration with Securi.net and built in encryption can ensure ease of mind in your WordPress management.
ManageWP for iOS: Now you can easily keep track of your WordPress websites wherever you go on your Apple devices.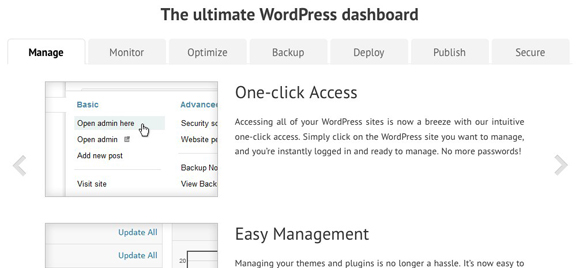 About The Prize
You can win one of five Business licenses for managing 10 websites for one whole year. The Business plan is the most feature-rich of all and it's valued at $453.60 each.
How To Enter
To enter this giveaway and have a chance to win, just do the following:
Comment below and tell us why you'd like to win.
Share this giveaway on a social network of your choice.
Good Luck!
This giveaway ended on October 30, 2012 at 10 p.m. GMT+0.
Winners will be announced shortly! Thank you for participating!
The Winners
We are happy to announce the following winners of the giveaway:
Congratulations! You will be contacted shortly!